Mobility Equipment
Loader and Lift Devices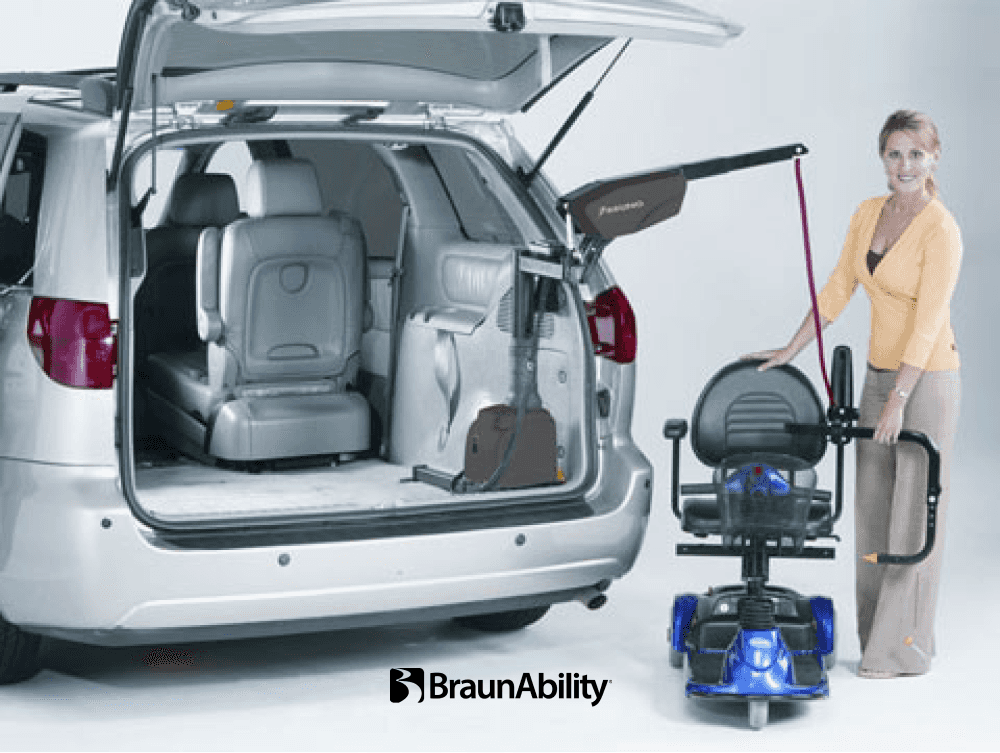 One of the most common challenges faced by wheelchair users is getting the chair in after you. The same goes for scooters. If you've considered an alternative to your current method, call Bettenhausen today about wheelchair loader and scooter lifts. We'll offer you options, the latest information on technology, and one-stop shopping for sales, installation, and service after the sale.
Loaders come in many varieties with the most common being ones that have straps which attach to the scooter or wheelchair allowing it to be lifted into the vehicle. There are also platform style loaders that either attach to the rear hitch of a vehicle or mount on the floor in the rear of the vehicle, which allow the mobility device to be transported safely out of the weather. There are also loaders for the side doors of minivans, loaders that store a manual chair in a rooftop carrier, and loaders that store the device in the bed or cab of a pickup truck. Contact us for further details.
Wheelchair Lifts & Accessories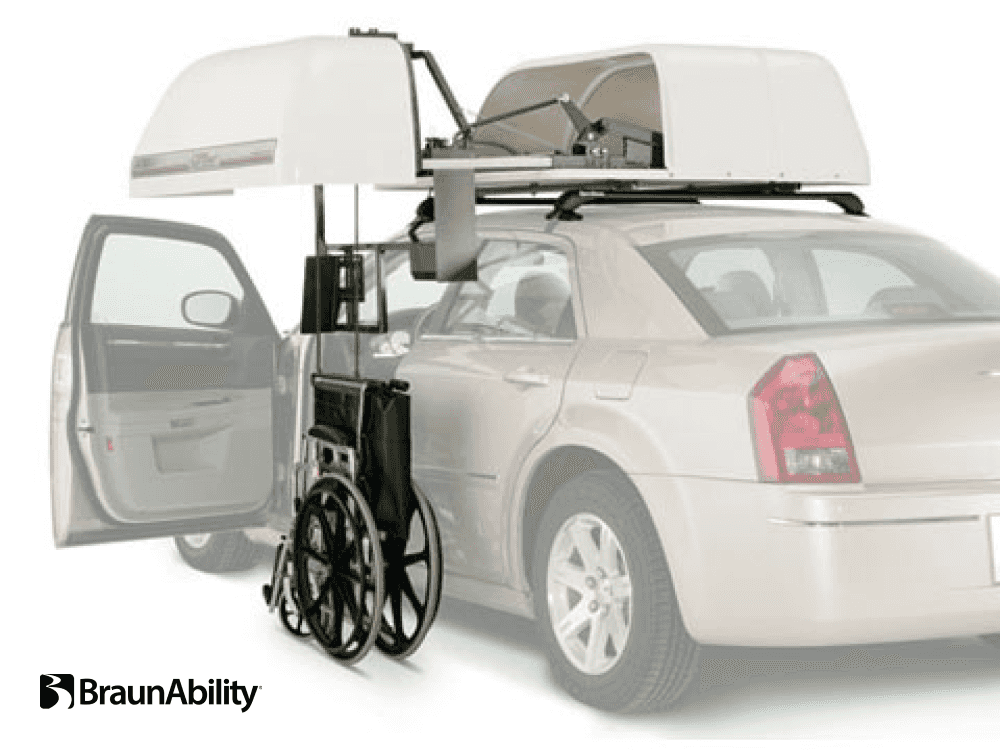 At Bettenhausen, we know that conversions are more successful when they include the little things to help customize the process and meet the needs of our individual clients. This is why we place such a high importance on being able to deliver accessories and extras that help our clients improve mobility. We are able to assist with custom needs like wheelchair locks and removable seating to make your new custom vehicle meet your individual demands.
In addition to the accessories that help you settle in to your new BraunAbility vehicle, we are also a proud distributor of wheelchair lifts and scooter lifts. These lifts are incredibly versatile and can further increase the mobility in your new conversion by allowing for wheelchair storage without assistance. Many clients recognize that wheelchair lifts and scooter lifts are the final step in regaining independent mobility. At Bettenhausen, we are honored to provide this at every stage of the conversion process.
Driving Aids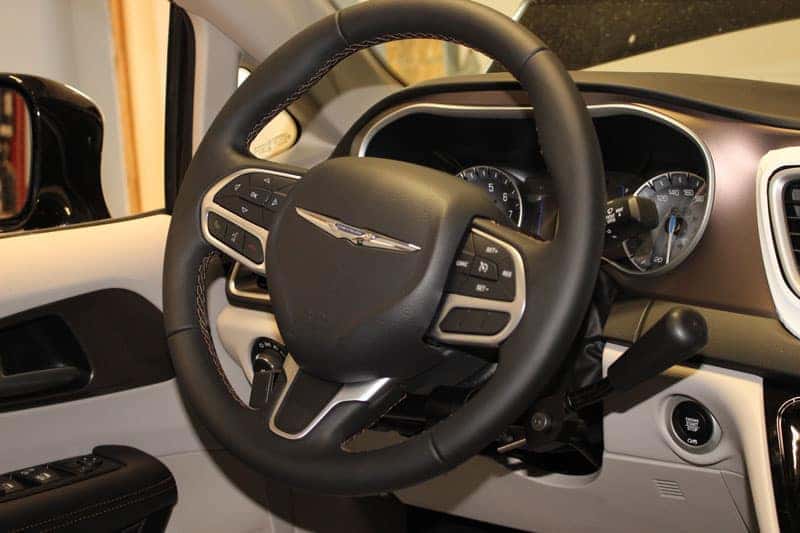 As many physically-challenged people can testify, regaining mobility after an event or illness changed their lives. Controls such as gas/brake, electronic, left foot accelerators, and steering devices have enhanced the independence of millions of drivers. You can count on Bettenhausen to provide numerous options, the latest information on technology, and one-stop shopping for sales, installation, and service after the sale.
Driving aids can be any number of devices that are designed to get our clients behind the wheel with full functionality. In addition to our conversions here at Bettenhausen, we are also proud to sell and install a wide range of adaptive driving aids that can make getting behind the wheel successful and enjoyable for our clients and their loved ones. We have made driving aid installations for almost every type of ability, and can modify the driver's compartment to fit these driving aids together in a way that meets the individual needs of our clients. For more information, please contact us.
Wheelchair Restraint Systems
At Bettenhausen, your personal safety comes first. That's why we specialize in wheelchair and scooter restraint systems such as Q'Straint® and Sure-Lok™. They offer four-point tie-down securement systems with flush-mounted floor pocket inserts and a non-retractable shoulder belt. The result is stable support during minor braking as well as more sudden stops. For the ultimate in efficiency, time savings and convenience, we also have retractable wheelchair restraint systems available. Each meets the highest standards of quality to ensure optimum safety. Contact us today to learn more.
The Turny Evo Swivel Seat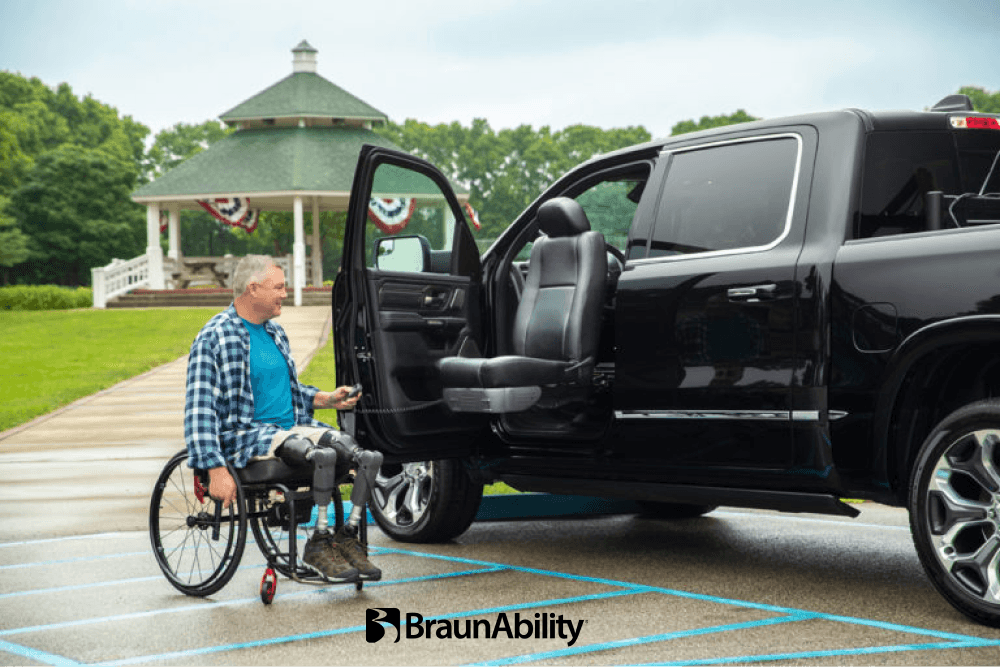 The BraunAbility Turny Evo transfer seat lift gives you an accessible vehicle solution on over 200 different makes and models of trucks, vans, and SUV crossover vehicles. Even more, the installation of the BraunAbility Turny Evo mobility seat is completely reversible and will not affect the resale value of your vehicle. This seat can also be removed and the original seat reinstalled.
If you're an eco-conscious buyer looking for fuel savings and easier mobility, you're in luck! The Turny Evo seat is now offered on the all-new Toyota Sienna Hybrid! Now you can enjoy safer vehicle transfers along with the class-leading 36 mpg fuel economy!
Bettenhausen CDJR

8355 W 159th St, Tinley Park, IL 60477

Sales:

708-801-3118

Service:

708-761-6663

Parts:

708-866-0937